This is it. The last of my LA adventures, the end of the hoopla, the finale. TA DA! Let's begin.
Three girls, in LA, what to do, what to do?! We couldn't think of a better use of a day than to visit the holy bench that the amazing buttocks of Joseph Gordon-Levitt and Zoe Deschanel (among with a million of other die hard romantic's) have graced. I gladly smothered my own ass all over the bench to soak up all and any essence of the two that is still left on the bench. Not going to lie, I died a little on the inside. Died in a good way, my heart swooned all over the place. I promise, nee, I SWEAR I'm not a stalker....I SWEAR!
A little photo sess later, we needed a caffeine fix to prep us for the little drive back and to warm us up because the sun in LA never came up that day and left us with nothing but wind. Little did we know that everything in downtown LA closes by 5PM. UHM WHAT?! Confused? Indeed. But we eventually found a cute little organic coffee shop by UCLA that had delicious desserts that flavor-danced all over my tongue. Yummmmmm!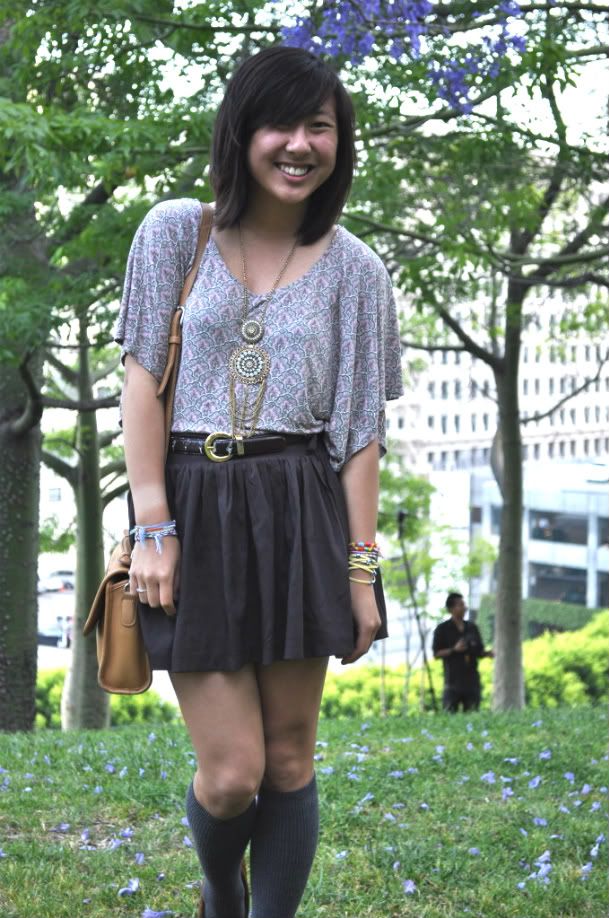 vintage wallpaper-esque flowy top: H&M ($9)
vintage brown belt: thrifted ($5)
brown "explorer" skirt: taiwan ($3)
grey knee highs: target ($1)
mocassins: crossroads ($12)
chandelier-like necklace: f21 ($8)
vintage coach satchel: thrifted ($15)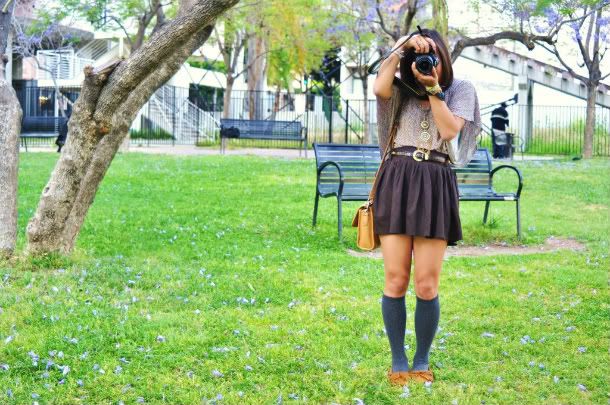 The next day, our final day in LA, I HAD to make time to go to the Melrose Trading Post and I'm SOOO Happy I did! Let me just say, vintage heaven, OH DEAR LORD! Within 5 seconds of walking in we spotted a Rumi Neely look-a-like! I found gorgeous vintage items from leather bags to shabby chic furniture to leather boots! Everyone, boys and girls, there dressed amazingly well, I couldn't help but oogle and stare and drool (just a little). Sigh, I left my heart there and I need to return and retrieve it ASAP!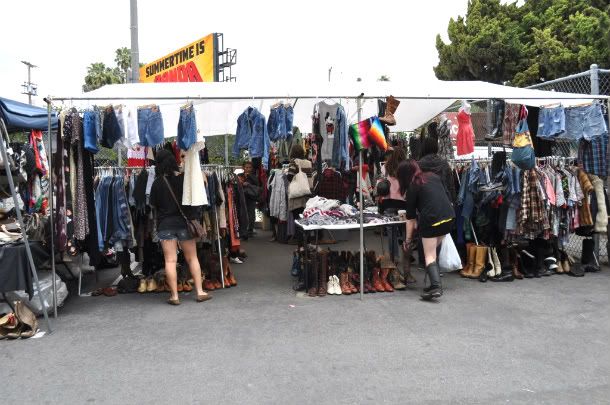 And that was it, the end of my six day trip in LA. I'm already starting to plan my next trip down!
photo cred for some photos: My bestie,
Laura.