My roommate Joana walks in while I'm changing (and shirtless) and exclaims, "ANISA, WHAT ARE YOU FREAKIN' WEARING?!?!" ..."What? My skirt's too short...so I doubled up!" It's actually quite a sad story, and now I'm going to tell you. I bought the gray bow skirt on my trip to Taiwan this summer and, at the time, it fit perfectly. It was a bit short I'll admit but my mom made me buy it (her philosophy "if you have it, flaunt it! you're only young once and this body won't last forever!") so I did. I forgot about the skirt completely until last Friday during my usual morning closet rummage. So I slip it on and what do I know? It refuses to simply cover my booty, it barely covered much of anything. Running out of time, and patience, I quickly scattered around and pulled on my party skirt. Never did I think I'd be wearing this to a full day of classes but WHATEVZ!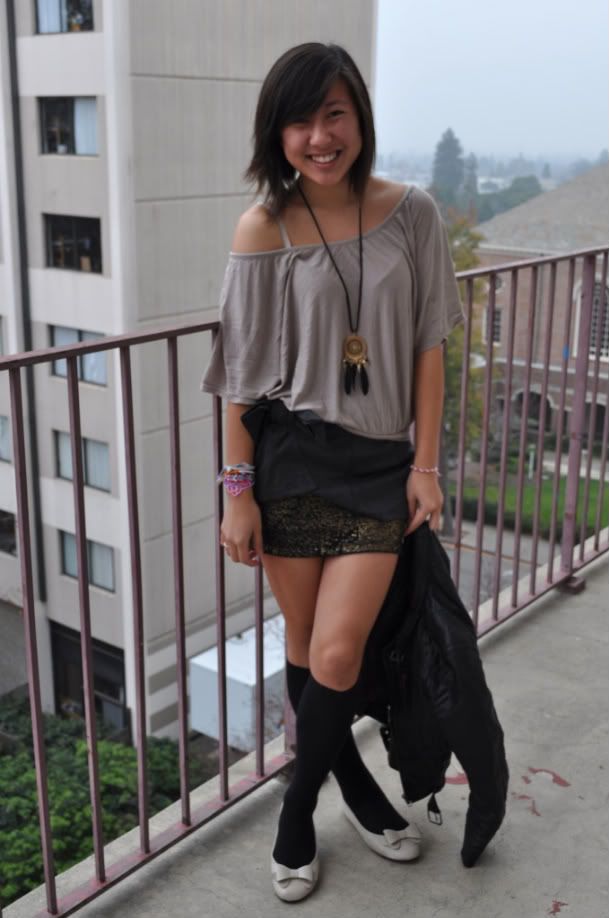 Why is it that I'm always in the mood to wear something leggy when it's cloudy and freakin' freezing out?! It's like this innate desire I have to torture my body temperature. On Friday afternoon, I took a little trip back home for my family's Chinese New Year dinner. It was supes fun to hang out with my baby cousins and be all merry and jolly with my familia! (the red envelopes filled with cash didn't hurt either, hehe!)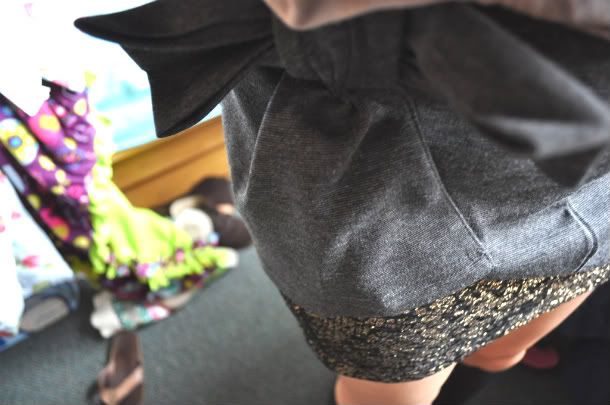 I just realized how many articles of clothing I put on each day. As I was doing laundry with my floormate, I realize that I had more clothes than she did, and I was only doing one weeks worth of laundry while she was doing two. WHATTHEEFF!? I didn't realize how many pieces of clothing I actually put on everyday, which only matters because I despise doing laundry AND folding AND putting them all way, BUMMER!
P.S. I am now officially a member of the
BARE
staff! I can't wait to start planning, photoshootin', and blogging for such an amazing magazine! Good thing I decided to get off my lazy butt and make something out of my last semester as a
little wittle
freshmen
(I actually like being a freshmen, weird!) Here's hoping to an amazingly productive semester filled with wonderful memories and red velvet cupcakes and unicorns galore! Got a little carried away there...or not (I WANT TO SEE A UNICORN! I BELIEVE, I DO I DO!)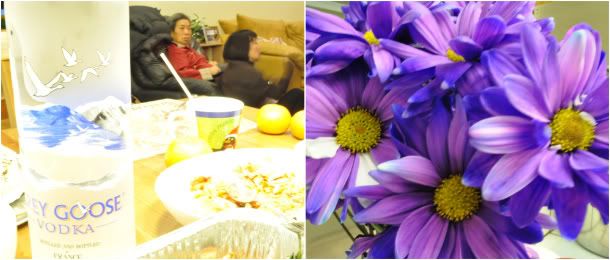 off the shoulder tan top: roomie's (f21)
gray bow skirt: taiwan ($10)
sparkly gold skirt: f21 ($15)
thigh high socks: f21 ($4)
leather crop jacket: h&m ($30)
dreamcatcher necklace: f21 ($6)